Inside The AOC Meme Machine
If you care

about American politics, you are probably at least a little bit obsessed with Alexandria Ocasio-Cortez. That's true whether you live in a city or the country, are old or young, watch Fox or MSNBC. Her appearances at Capitol Hill hearings become instant viral clips and Twitter quote-tweet fodder. There are angry YouTube "takedowns," fawning and lo-fi Instagram stickers, and GIFs galore. There are comic books bearing her triumphant image; there are memes comparing her to the grotesque Momo.
Oh, the memes. BuzzFeed News has sought to quantify her social media dominance, and here's one metric: Her most popular GIF has more than 50 million views. On Gab there are roughly 40,000 posts that mention "AOC" or "Ocasio-Cortez."
All this for her! Until you realize, really, it's all for us: her fandoms and her anti-fandoms.
AOC is the brightest political star born fully of the social media age, and how her political image has functioned online is emblematic of how society now experiences politics. A detailed examination of her digital persona offers a glimpse into the new digital partisanship — how Americans cleave to their ideological matches. Her rise and portrayal offer insight into the central qualities of contemporary politics: relatability, authenticity, and communities built around their identity. And the intense enmity toward her shows how those very same qualities can repel people.
"All of our political foundations come from wherever we have our communities," said Ashley Hinck, an assistant professor at Xavier University in Cincinnati, where she specializes in political fandom. Where people's most important relationships with public figures used to be local, or via the one-way communication of mainstream media, the new political communities take root in the two-way connections of social media.
"What has changed is where our community is happening," she added. And communities are now happening online.
BuzzFeed News examined roughly 40,000 images from Instagram; 4,000 tweets from politicians; more than 500 YouTube videos; and more — about 20GB worth of data and imagery in all — from across the social web to better understand the weird, inspiring, ugly, and utterly contradictory content that people produce about AOC, and to present some new ways at quantifying her memeability. Her memes serve as a case study for what will likely come during the 2020 campaign and, more importantly, as a case study for what our obsessions say about us and how we understand the very politicians we love or hate within the fandom factions to which we choose to adhere.
AOC Is Your New Best Friend
A major source of Ocasio-Cortez's appeal is her accessibility and familiarity on social media. The way she uses the platforms — especially Twitter and Instagram — makes her feel like that friend who is casually dishing about her new job while she's also whipping up a meal for you.
It's the purest embodiment of a growing subject of academic research: how social media platforms allow politicians to "perform authenticity," and — this is the important thing here — how "the political candidates' authenticity has become an increasingly important factor in voting decisions," according to a study about trust, politics, and social media.
It's not just familiarity; it's also access. She communicates to her constituents A LOT and is as active on Twitter as President Donald Trump is.
AOC has tweeted an average of 12.0 times a day since the beginning of 2019. Trump tweeted roughly 11.7 times per day in that same time frame.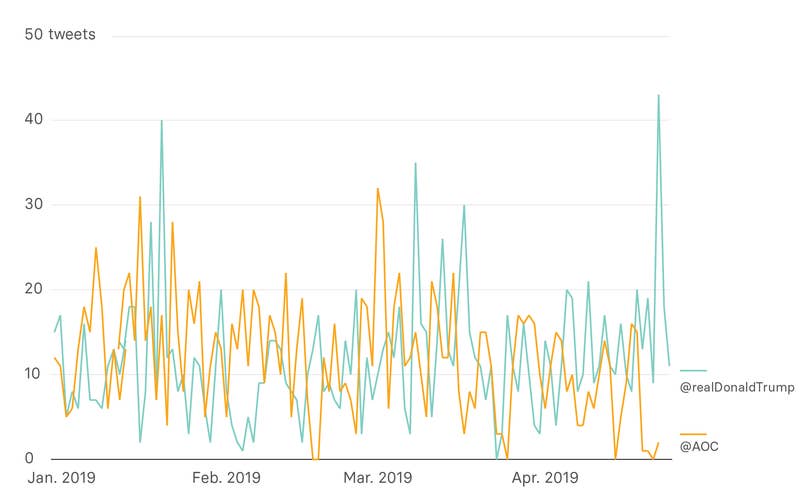 She also makes sure to strike a familiar tone. You can see this in her Instagram captions. Roughly 60% (148 of 247 posts) of her Instagram posts since 2017 contained emojis, for instance.
She also brings in her audience through humor. In the ninth most popular on Instagram, she writes: "Behind every strong woman... are more strong women 😉 #ittakesavillage." She has fun while dismissing her critics, creating a space for people to rejoice in defiance. "If Republicans thought women dancing in college is scandalous wait till they find out women dance in Congress, too! 😉," she wrote in her most popular Instagram post. "I announced that no one who works for me full-time will make less than $52k and Fox News called it communism 🤣," she wrote in another.
She's vulnerable, too, and allows for people to feel close to her in that way. In the second-most-liked Instagram post on her feed, she admits, "All this attention gives me a lot of anxiety."