Photographer Called Out for Consent Form that Includes 'Sexual Arousal' Clause
A Melbourne-based photographer is being called out online after a photo of his model consent form was shared on social media. The form includes several unsavory clauses, including a "sexual arousal" clause and an agreement to "participate in sexual activity" if the model feels "comfortable."
A photo of the offending consent & release form is being shared widely on Facebook and Instagram by models who are warning others to stay away, but the story reached an even bigger audience last night when it was picked up by the Daily Mail. Though the publication declined to release the photographer's identifying information, they shared an image of the contract (below), and some of the replies that people have posted.
The contract includes several clauses of a sexual nature, including consent to:
"Acknowledge that there may be times of sexual arousal by either or both parties."
"Understand and allow that if the desire for me to touch the photographer or to be touched by the photographer occurs that it will be permitted by both parties."
"Equitably agree to participate in any sexual activity if I am asked as long as I feel comfortable to proceed to do so."
There is also a clause that allows the photographer to "be present (if he desires to be) whilst I am preparing for any and all of the shoot"—which ostensibly means being allowed to watch the model change—and another that accepts "full responsibility" for any actions that may take place, including "touching any part of each other's bodies." You can see a screenshot of the full contract below: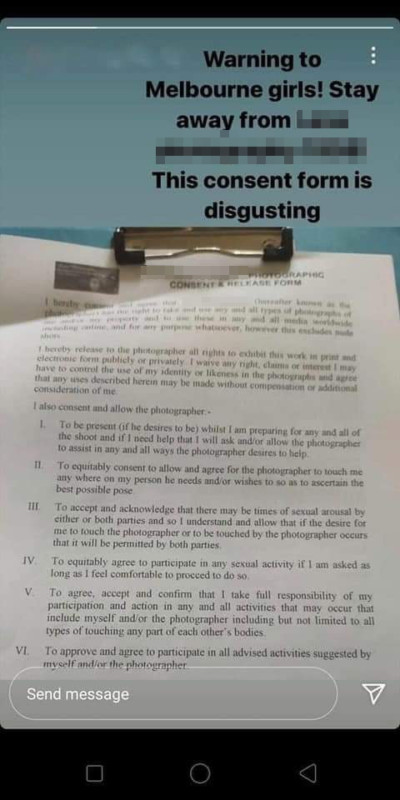 According to the Daily Mail, a 21-year-old model in Australia said she was approached by the photographer multiple times over social media, despite repeated refusals and eventually blocking him on Instagram. The photog also apparently owns a massage parlor that caters specifically to women, offering massages with "no time limit" and a "FREE basic medical check."
For the photographer's part, the only response we were able to find online is shown in the screenshot above, in which he claims that the contract pictured hasn't been used "in months" in favor of a "standard" consent form. And while The Daily Mail reports that the offending photographer's social media accounts have been shut down, PetaPixel was able to confirm that his Instagram account is still live as of this writing.
When reached by the Daily Mail for comment, he said only that he was "seeking legal advice."