Officials Warn Against 'Instagram Hikers' Venturing to Plane Crash Site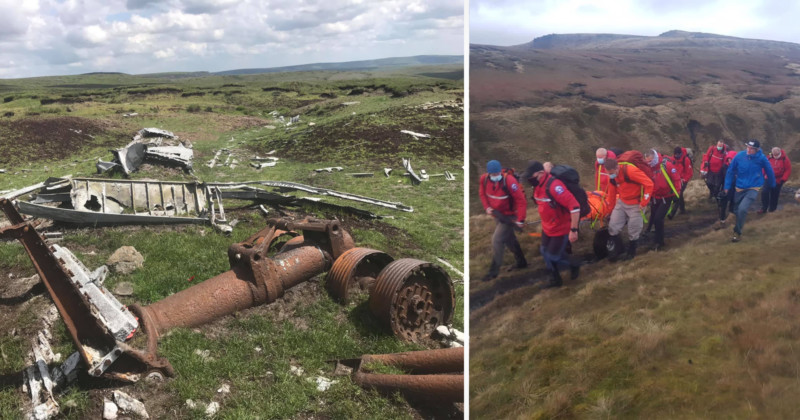 A popular COVID lockdown photo location in Higher Shelf Stones, England has become dangerous for "Instagram Hikers" as winter approaches. Volunteer mountain rescue teams have advised against visiting after being called out multiple times to assist ill-prepared visitors.
The crash site is known as the Peak District Air Accident and involved a Boeing RB-29A 44-61999 of the 16th Photographic Reconnaissance Squadron of the United States Air Force, which crash-landed due to fog at Higher Shelf Stones on November 3, 1948. All thirty-three members of the crew died in the crash.
According to The Guardian, the location has become a popular Instagram photo site during COVID-19 lockdown, where hikers reportedly flocked to the location to take photos of the debris.
However, as winter approaches, the landscape has become increasingly dangerous and the nearby Glossop mountain rescue team has begun urging visitors to be prepared for poor weather and difficult terrain.
While the volunteer rescue team has been called out multiple times to assist injured hikers, they also have wasted hours looking for visitors who had long since reached safety before the team arrived.
The Guardian reports that in one such case, the team searched for hours in the area for a hiker they had been alerted to as injured, and when they could not find the missing party became increasingly worried. However, later that night they were made aware of the hiker's safety at home, some distance away.
"This has happened twice in recent weeks," said Patch Haley, the rescue team lead, to The Guardian. "We're always glad to hear that people are safe, but I can't stress enough how important it is to keep us informed. If people do make their own way down after they call emergency services for assistance, it's vital they let us know via 101. My fear is that with higher volumes of walkers visiting the area during lockdown, more of these false alarms will leave our rescue team overstretched, and at risk of struggling to reach those who are genuinely in need of urgent assistance."